"We must be smart, smarter than we have ever been before in protecting our oceans and seas."
This week i am in Latvia for the RespnSeable conference and Partner workshop on building ocean literacy and connecting people to the ocean. ResponSeable is an ambitious 15 partner project that seeks to answer the question:
How can we encourage Europeans to take a closer interest in their oceans and to treat them with greater respect and understanding?
Funded by Horizon 2020, ResponSEAble is mapping European marine research and knowledge to further our understanding of complex human-ocean relationships and the economic benefits that we derive from our seas and the ecosystems they support.. By generating greater public debate and knowledge, ResponSEAble, intends to support all sectors of European society take a more informed and responsible attitude and help secure healthier and more sustainable oceans.
Find out more about ResponSeable here
What does it mean to be Ocean Literate?
To understand your influence on the ocean and the ocean's influence on you
To understand your influence as an individual, professional and social being
To be able to communicate responsibilities for the ocean to others
"Literacy skills are fundemental to informed decision making, personal empowerment and active and passive participation in local and global communities"
My role in the conference is to represent The Marine Foundation and lead a workstream on education and engagement through eco-art.
The ResponSeable conference is in Jurmala, Latvia, set 3 minutes from this beautiful beach. Proximity to the sea was one of the criteria set in organising this conference to inspire and frame our thinking and discussions.
I first became involved with the Marine Foundation in 2014 when founder Celia Gregory invited me to Bali to be a freediver and part of her creative team in her living sculptures under the seas programme. The programme brought together local artists, NGOs, divers, fishermen, creatives and religious leaders to collaborate on an Ocean Literacy project.
My work with The Marine Foundation has given me an understanding of the power of ocean literacy and fundementally changed my approach to communicating complex sustainability issues and taught me the power of using creativity, hope and stories of regeneration. More than anything it has exponentially increased my love of and respect for the ocean and how important a role we all have to play in protecting our oceans and seas
Please find out more about The Marine Foundation here
We are highly visual creatures. A creative approach is a powerful way to engage people in sustainable solutions to environmental issues. Eco-art provides a highly effective framework to integrate and re-synthsise knowledge through discussion of critical texts drawn from diverse fields and the production of collaborative, multidisciplinary projects that balance theory and practice.
"A picture is worth a thousand words"
Environmental data and science becomes more accessible through visual illustrations. This means data we may have already learned about becomes easier to process and understand once it has been translated visually. Therefore developing eco-art projects that are engaging, effective and insightful requires deeper theory, understanding and to be supported by scientific and social evidence. This is called a "deep eco- art"
The challenge for the next few days will be to connect with the mix of scientists, policy makers, creatives, educators and marine experts to collaborate on an artistic project which will build greater Ocean Literacy and to build a matrix of what sucess for engagement will look like.
In the build up to the conference Celia pulled together research on global eco-arts projects. Here are some of our favourites that shaped our thinking.
Jason Decaires Taylor – The Banker:  Male figure with head immersed in sand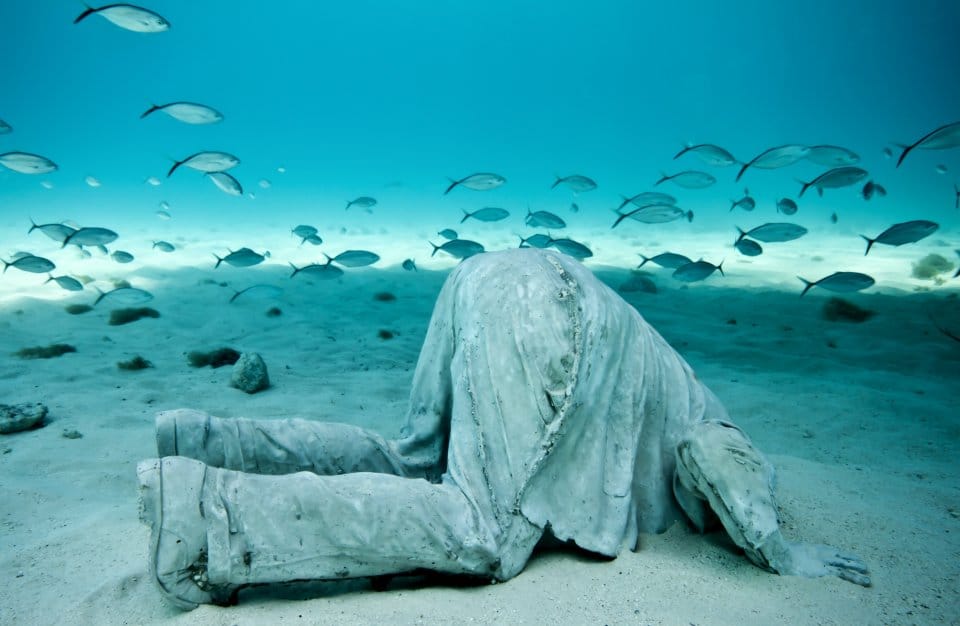 The Little Mermaid by Jeff Hong
Fishlove Campaign: Lily Loveless – Octopus
And one from The Marine Foundation's work. This is shows the progress of coral growing on the Coral Goddess